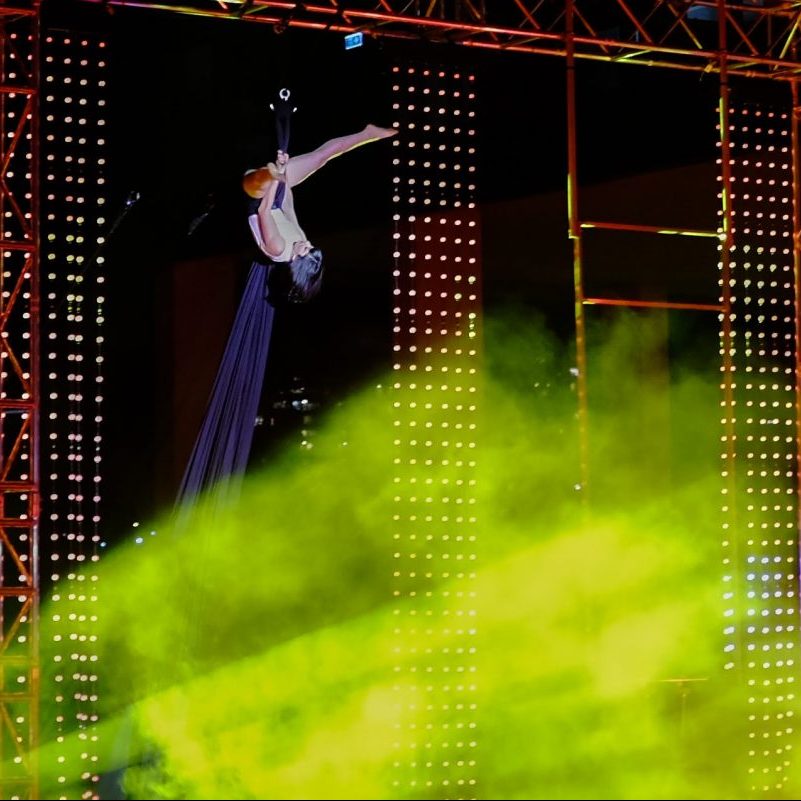 DeepBlue collaborated with the amazing Marianna Joslin in the Robotronica Finale performance, she has also made several guest appearances in our SummerSchool programs.
Marianna was born with a vivacious nature and a love of the arts. Vulcana Circus ignited her passion for acrobatics as a young adult. She has since trained and performed with, and alongside, elite circus artists in Australia and abroad. Marianna launched her career as a founding member of the Ice Cream Factory collective, an innovative Australian circus hub. Soon followed Twisted Hitch, a renowned female acrobatic duo. This paved the way to her avant garde one woman show, All Class. She was the principal artist for Robotronica, a QUT circus-robotics collaboration. Marianna was then a guest artist for Circa's production of Wunderkammer at the Chamaleon Theatre, Berlin. Since 2016 Marianna has worked principally with her partner Casey Douglas, highlights include touring with Sydney Opera House production 'Funatorium: Mad Hatter's Tea Party', and currently working as core ensemble members of Company 2 in productions 'Fallot' and 'Le Coup'. Famed for her powerful stage presence, Marianna specialises in acrobatics, aerial silks, and clown. "Her sheer exuberance and firecracker energy is sure to leave you smiling" Dirt and Candy.
Marianna Joslin is a conceptual tour de force, with the sass to put a cherry on any show cake. A comrade of the Brisbane circus community, Marianna has trained and performed with elite circus artists in Australia and abroad. Career highlights include, as a founding member of the Ice Cream Factory, the renowned acrobatic duo Twisted Hitch, her one woman show, All Class, performing with Circa in Berlin, and recent acclaim with her acrobatic partner Casey Douglas. Marianna specialises in aerial silks, clown and adagio. As a performer she believes art is the mirror that makes us human.