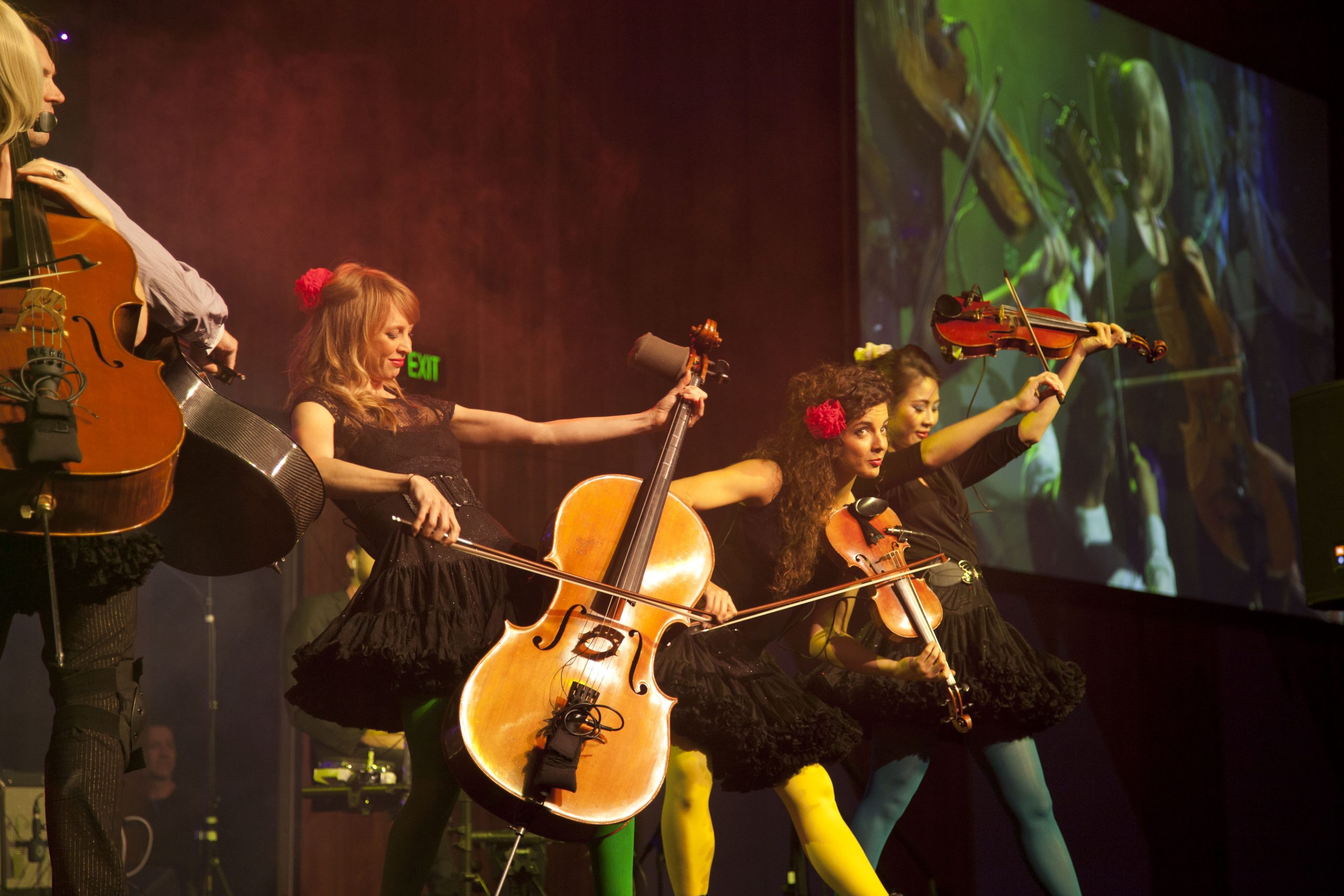 Emerging from research in 2005 which asked the question: What do you want from an orchestra? The overarching response was connection and it was here that DeepBlue evolved. We have created an award-winning approach to orchestral performance and have successfully reinvented the orchestra. Wowing audiences across the world we offer electrifying shows that feature lush strings, atmospheric electronics, big beats, dynamic movement, circus stunts and immersive visuals and lighting. Our unique versatility allows us to perform anywhere- festivals, theatres, outdoor spaces, nightclubs, private events, ceremonies and more.
Our audience focused approach and passion for diversity and innovation, together with our long history of global collaborations with creatives and communities, have seen us become a national tour-de-force. Passionate about inspiring the young musicians of today to experience innovative ways of performing and creating music, our YoungBlue program has created its own education revolution. Nurturing new talent and encouraging emerging musicians to approach their instruments with experimentation, physicality and fun, while also allowing DeepBlue to continually experiment and evolve.
We are humbled to have received exposure through live performances and TV appearances across the country and globally at festivals such as the World Expo in Shanghai or as finalists in one of the highest rated episodes of Australia's Got Talent. As well as featuring in festivals, events and workshops across India, Vietnam, Malaysia, Thailand, Indonesia, America, Africa and China. Most recently performing at the Commonwealth Games Bleach festival and for the live broadcast of ABC's Australian of the Year Awards 2020.
We've created six signature shows, worked with thousands of young people, creatives and collaborators, and toured nationally five times, globally more than a dozen and developed over 50 tunes. We can't wait to see what's next. We are accessible, inclusive & create opportunities to build long lasting, meaningful relationships & experiences
We seek new ways of being creative & unique by being brave & taking risks that challenge & push boundaries in performance & technology
We are dedicated to developing & improving ourselves & each other while fostering, encouraging & nurturing the growth of the next generation
Is to empower people across the world to connect through music.
Is to empower people to connect in new and different ways though unique musical experiences that are brave, bold and inspirational.
Is to create electrifying shows which captivate audiences in global venues and festivals. To engage with collaborators, communities, schools and youth and create meaningful, long lasting relationships. To develop and deliver an innovative education revolution which empowers communities and people, both young and old to connect.
Meet the DeepBlue musicians & performers. If you would like to become a part of the DeepBlue team visit our Join Us page.
"The sweetness of the song combined with the clear joy being had by the performers creates a wondrous experience that goes beyond language. One of the values of DeepBlue is creating long lasting, meaningful experiences, and they did that did that for me."
Good Call Live Review, Camilla Astrid Strand
We have always put our audience first: Our performance style, the songs chosen, every element is informed by our audience in order to create an orchestra that you have influenced. The DeepBlue concept emerged from research in 2005 through an Australian Research Council Linkage Grant and we have continued to explore innovative performance ideas, education programs and unique ways of engaging different audiences and communities. Our research has primarily focused keeping orchestras relevant as audiences grow and change, in order to keep this art form thriving throughout the 21st Century!
Orchestras today more than ever, need to continue to innovate and rethink ways of being in this world.  We aim to tackle issues facing orchestras head on,  taking action on research outcomes and offer a unique performance that will keep you on the edge of your seat.
If you'd like to undertake research with us please get in touch - we'd love to continue to innovate in this field. You can find out more about our research below.
DeepBlue is a Not-for-Profit Incorporated Association run by a board of DeepBlue musicians and associates.
Meet our board members:
Banner Photo by: Mellumae Photography