Join the team, collaborate, compose or intern
DeepBlue is always looking for creative people to join our team and ideas, artists or projects to collaborate with - no idea is too crazy  Here is how you can join the team or collaborate with us.
We play strings, keyboards, drums, electric guitar and also work with DJs, VJs, and electronic musicians proficient in Ableton Live.  We also train and develop movement, dance and circus skills.  Our talented production crew consists of visual, sound, lighting and expressive technology engineers as well as costuming, stage and set design specialists.
If you'd like to find out more about joining DeepBlue please email us your resume and cover letter to info at deepblue.net.au to request an audition and interview. 
We can't wait to meet you!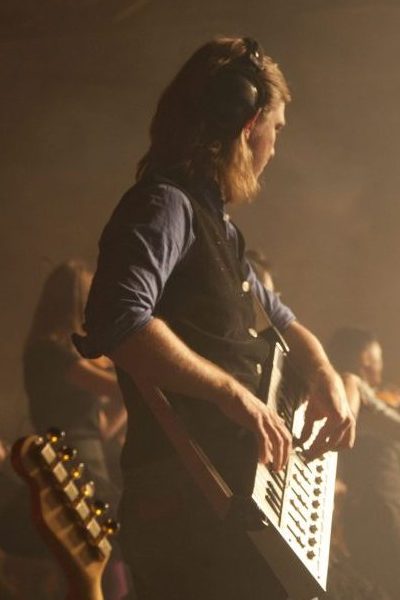 DeepBlue thrives in a collaborative environment.  We love to work with a broad range of creatives to create new and exciting ideas, installations, performances, and ways of performing. If you are a composer, director or creative organisation with a big idea and would like to find out more about collaborating with DeepBlue, get in touch, we'd love to hear from you. We regularly collaborate with circus and dance performers, actors, artists, composers, electronic artists, photographers, videographers and others. Check out our past collabs and composers here.
If you'd like to find out more about collaborating with or composing for DeepBlue please email us at info at deepblue.net.au and let us know your ideas and how you'd like to work with us!
Internships with DeepBlue can either be organised through your university or TAFE's workplace learning units, or directly with us. DeepBlue have hosted internships since 2011, involving students in various workplace learning activities. DeepBlue have worked with a wide range of creative industries students looking for experience in all aspects of live music production, performance, promotion, event planning and community engagement. Many of these interns have gone on to work professionally in the industry and in some cases have stayed on to work with DeepBlue. 
Send us an email with your resume to find out more about interning with DeepBlue today at  info at deepblue.net.au
"Interning with DeepBlue was an enriching and value-adding experience. They gave me the freedom and trust to develop ideas and implement them, but also guided and taught me skills that are needed in the real world. DeepBlue really made me feel like I was part of something bigger and made me feel part of the team."
Janella Ang, QUT Creative Industries graduate
"My time with Deep Blue solidified many of the skills I use as a Producer today. Whether it was assisting with the logistics of a festival or helping with YoungBlue programs, learning from a company with such established processes was invaluable experience as an emerging creator."
Finley Kube, QUT Creative Industries graduate
Arts Management Opportunities 
As a not-for-profit incorporated association there are many ways you can get involved with working with DeepBlue.  Becoming a member of a not-for-profit arts organisation can be great personal experience as well as becoming part of the cultural fabric of Brisbane. There are both volunteer and paid opportunities to work with DeepBlue, we'd love to hear from you. 
If you'd like to find out more about volunteering to join the Management Board that runs DeepBlue please let us know and we'll send you a copy of our constitution.
If you'd like to find out more about joining or creating a sub-committee (eg YoungBlue, Marketing, Events, Tours, Creative Development) or if you'd like to learn more about joining DeepBlue's administration, management or marketing teams please email your resume to info at deepblue.net.au to request an interview.