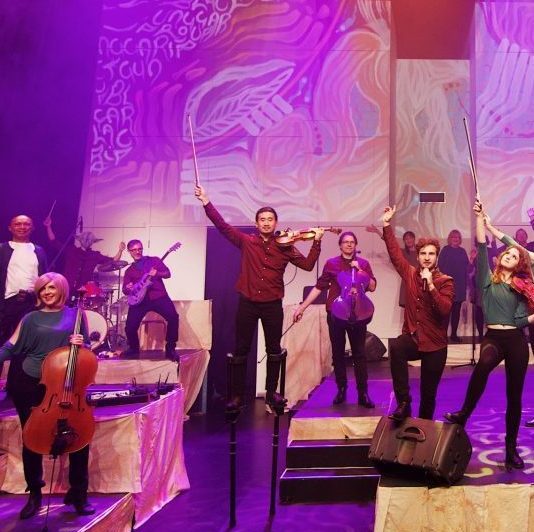 Our Place explores the ever-changing relationship between neighbours and our connection to place. Neighbouring arts companies DeepBlue and The Queensland Choir's contrasting performance styles combine, framed by innovative visual design and interactive technology.
Featuring acclaimed didjeribone performer Tjupurru, and Digi Youth Arts actors, direction and design, this is a unique collaboration; an insightful piece of living, breathing art. With lush strings, fat beats, exquisite voices, and immersive visuals, Our Place weaves stories from the Indigenous connection to country, to the suburban 'Australian Dream,' to the rising popularity of inner-city apartment living in an astounding musical and artistic collaboration. 
Read this artsHub review of Our Place, Queensland Music Festival 2019 season.
See the Our Place ArTour Presenter Pack or Our Place Show Website for more details about the show, or get in touch if you'd like to find out more!
Our Place premiered at the Queensland Music Festival in July 2019.
Creative Development
Dr Vaughn Pinxit - tangible media director
Joseph Burgess - visuals designer
Kane Brunjes (Gunggari) - visual artist
Emily Hill - graphic designer
William Richardson Davis - vocal orbs designer
Caleb Donovan - lighting designer
Caitlyn Kidney - venue tech manager
Tiffany Beckwith-Skinner - costumes
Simon Pyle - production manager
Alethea Beetson (Kabi Kabi + Wiradjuri): writer + co-director of DYA
Merryn Trescott (Wiradjuri): co-director of DYA,ensemble
Dr David Megarrity - dramaturgy
Don Jameson & Greta Kelly - producers
DeepBlue 2019 Performers
Amanda Tio - bass guitar, double bass
Deanna Connelly - strings recording leader
Emma Hales - cello
Evan Setiawan - violin
Greg Olley - violin, keys, sound design, audio production
Greta Kelly - management, violin, publicity, ESP developer
Hik Sugimoto - percussion
John Meyer - electric guitar
Kaitlyn Bowen - violin
Kayne Hunnam - live sound and recording engineer, audio production
Toby Saltwell - cello
Toukie Wood - violin
Sophie Ellis - viola
Wayne Jennings - cello
The Queensland Choir 2019 Choristers
Amy Lun - Soprano
Andrea Ripper - Soprano
Bambang Triasmono - Tenor
Bernadette Driessen - Alto
Catherine Hunter - Soprano
Deborah Thorsborne-Palmer - Soprano
Deon Payne - Bass
Ian Orchard - Bass
Jan McCreary - Alto
John Sullivan - Bass
Julie Van Dieen - Alto
Karlene Munday - Alto
Kaylene Roberts - Alto
Linda Gust - Soprano
Marie McMahon - Alto
Michael Brock - Tenor
Mike Kerswell - Tenor
Misook Yang - Alto
Olfa Hafsa - Soprano
Pauline Angus - Alto
Paul Kennedy - Bass
Ron Blackwell - Tenor
Rosemary Graham - Soprano
Tjupurru
Didgeribone, creative development, oral history recording
The Queensland Choir
Don Jameson - Chairman
Kevin Power - choral master
Ian Orchard - TQC manager
Charmaine Matthews - stage manager
Digi Youth Arts
Alethea Beetson (Kabi Kabi + Wiradjuri): writer + co-director of DYA
Merryn Trescott (Wiradjuri): co-director of DYA,ensemble
Nic Currie (Mununjali + Bundjalung): ensemble
Emma Healey (Nunukul + Ngugi): ensemble
Damian Mulligan (Kabi Kabi + Juru): ensemble
QUT Creative Industries Interns
Daniel Martinez-Lopez - technical production assistant
David Hayes - ESP developer, tangible media,rehearsal assistant and web developer
Janella Ang - videographer, photographer, marketing, sponsorship, front of house
Sophia Lake - marketing, sponsorship,rehearsal direction assistant, choreography notation
QUT Tangible Media developers
Adrijana Bukarica
Alex Koszarycz
Courtney Staunton
Emily Hill
Jhoanna Tagaro
Kyungsoo Han
Lauren Sowerby
Madeleine Perrin
Rhys Pichanick
Salvatore Fazio
Sonia Zheng
Stacey-Rose Vertongen
Tess Whitton
Thalia Brunner
We commissioned work from the following seven talented composers to help tell the story of Our Place.
Singing Across the Treetops – Corrina Bonshek
Part of Corrina Bonshek's Song to the Earth is inspired by patterns of unity and diversity, and cycles of life, death, rebirth and renewal. It speaks to a heartfelt need to care for our planet. The performance featured Evan Setiawan, Greg Olley and Toukie Wood on violin.
Can You Feel the Sun – Zinia Chan
Zinia Chan composed this piece based on the poem, Acknowledge by Roxy Jones, a Digi Youth Artist.
A Good Place to Live – Robert Davidson
Robert Davidson composed this piece using the recordings of elder Aunty Ruby who grew up in the Kelvin Grove area, and Joan Bradley, a minister's wife who lived locally.
Five to Nine – Richard Grantham
This tribute to the joys of leisure time (hence the cryptic title) was composed by Richard Grantham, drawing its inspiration from the multiple-note horn of our tour bus in India! Featuring soloists Sophie Ellis (viola), Evan Setiawan (violin), and Emma Hales (cello).
Who is Thy Neighbour – Greg Olley
Greg Olley composed this piece in which the didgeribone acts as the conductor of the orchestra. Phrases are passed around the ensemble in a free flowing state until the introduction of a pulse based upon western musical ideas. The lyrics are taken from a hymn written about the importance of caring for one's neighbour.
Ancestor – Tjupurru
Tjupurru's ancestral songloops are played on his Didjeribone, which was invented by Charlie McMahon.
Wave Motion – Phill Wilson
Long-term DeepBlue collaborator, Phill Wilson's thoughts on his composition Wave Motion;
Musically, I'm seeing people in separate rooms of an apartment block, all playing the same line of music, but not in sync with each other. This piece makes use of cannon and iso rhythms to create a micro-polyphony. I'm not using homophonic textures (block chords) – but rather letting the canons create their own harmony.
Our Place was supported by the Queensland Government through Arts Queensland and the following generous sponsors: Brisbane City Council, QUT Creative Industries, QUT Precincts, The Queensland Music Festival, and The Kelvin Grove Community Commerce Association.