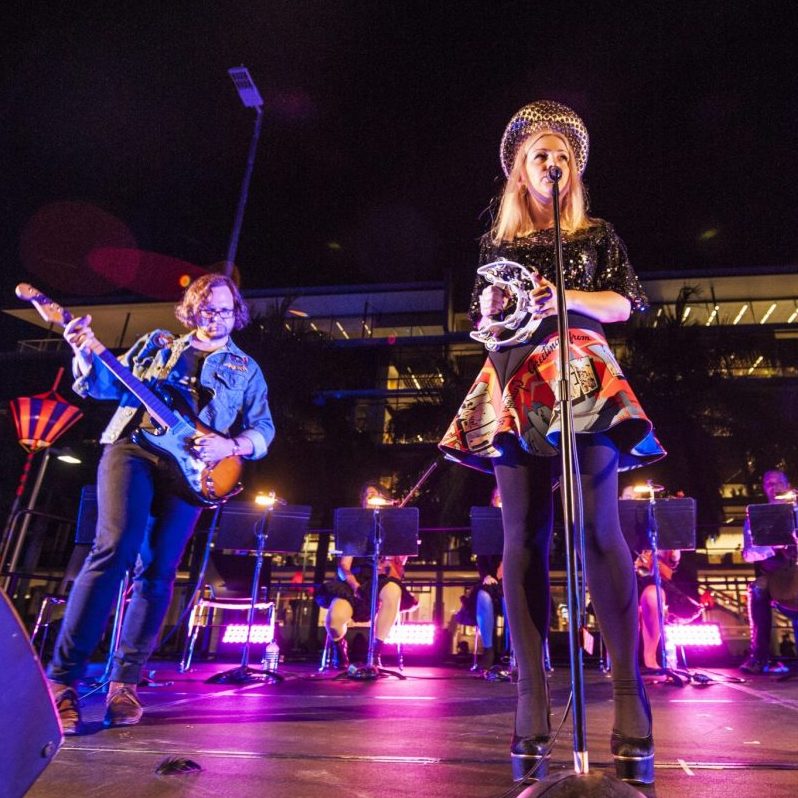 DeepBlue had the honour of working with Kate Miller-Heidke in the CreateX finale in 2016. She is an award-winning singer-songwriter who effortlessly traverses the worlds of contemporary pop, folk, musical theatre and opera.
She has released 4 albums in Australia, achieving multi-platinum status and appearing in the top 10 album and singles charts numerous times. Her album O Vertigo! debuted at number 4 on the Australian album charts, broke Australian crowdfunding records and was nominated for an ARIA award. Her previous albums include Nightflight, which reached number 2 on the ARIA chart, and Curiouser, which reached double platinum sales in Australia and spawned the multi-platinum hits 'Last Day On Earth' and 'Caught In The Crowd'. In 2009 she became the first Australian to win the grand prize in the International Songwriting Competition for 'Caught in the Crowd'.
Trained as a classical singer at the Queensland Conservatorium, Kate recently appeared at the Metropolitan Opera in New York in John Adams' The Death of Klinghoffer. She has performed several roles for the English National Opera, and in Jerry Springer The Opera at the Sydney Opera House. Her debut opera as a composer, The Rabbits (based on the book by Shaun Tan and John Marsden), was commissioned by Opera Australia and premiered at the Perth Festival in February 2015, followed by sold out seasons in Melbourne, Sydney and Brisbane. It won 4 Helpmann Awards including Best Score and Best New Australian Work.
In 2015 Kate broke into national television, featuring in The Divorce, a four-part ABC mini-series. Both The Rabbits and The Divorce were nominated for Best Soundtrack/Cast Recording at the 2016 ARIA Awards. Her work has been nominated for other ARIAs in categories as diverse as Best Pop Release, Best Adult Contemporary Album, Best Classical Album,, Best Comedy Release and Best Australian Live Act.
With her collaborator Keir Nuttall, she has written the music and lyrics to Muriel's Wedding: The Musical, which premiered at the Sydney Theatre Company and played throughout 2019 in Sydney, Melbourne and Brisbane. It won five Helpmann Awards, including Best Original Score. After competing at 'Eurovision – Australia Decides' on the Gold Coast in February, Kate was unanimously chosen by both the jury and public votes to become Australia's representative at the 2019 Eurovision Song Contest. Kate's heartfelt performance and the out-of-this world staging of her original song 'Zero Gravity' won her first place in her semi-final and a top ten placing at the Eurovision Grand Final in May 2019.
Kate's 5th studio album 'Child In Reverse' will be released on 30 October. The first two tracks from the album, 'This Is Not Forever' – a moving a video featuring a number of dancers filmed at home in isolation – and her new single 'Deluded', are out now. Kate has been widely praised for her unique ability to combine moving, heartfelt songs and laugh out loud humour, as Sydney Symphony Orchestra states, "If you've seen The Rabbits – or any performance by Kate Miller-Heidke – you'll know what an amazingly versatile musician and gifted creator she is. In her own words, The Rabbits is "an opera / musical / song-cycle / weird pop concert / puppet show / art-play." Phew! She's classically trained, yet her style crosses contemporary pop, folk and opera. Her songs are stamped with witty humour and poignant insight – always touching."
Photography by: QUT Marketing