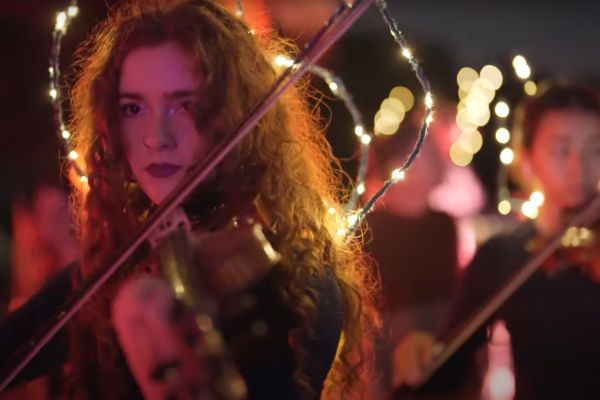 From May – July 2023 DeepBlue and Corrina Bonshek & Collaborators toured Song to the Ocean to HOTA, Home of the Arts, Gold Coast and the North Australian Festival of Arts supported by supported by Restart Investment to Sustain and Expand (RISE) Fund – an Australian Government Initiative.
In the lead-up to our HOTA performance we workshopped the music and movement with local high school string students and Michael Askill, percussionist extraordinaire also conducted a gong playing workshop with local percussionists.
Then on the day of the show, May 13, the day began with a productive production meeting at the stunning outdoor stage, where the team discussed the details of the show. Sound engineers carefully checked every aspect of the sound design, ensuring that the audience would be immersed in Corrina Bonshek's sonic wonderland of marine sounds recorded by The Oceania Project.
Meanwhile, percussionists set up their gong stands. Rehearsals filled the afternoon, as DeepBlue and YoungBlue musicians tuned their instruments and synchronised their movements. Everyone was rehearsing wholeheartedly , aspiring to deliver a flawless performance in the evening. As the sun began its descent, DeepBlue and YoungBlue musicians adorned themselves in stunning costumes —wearable & small scale light installations by Tiffany Beckwith-Skinner; They fastened their wireless packs and microphones; and waited excitedly on the ramp, with their instruments poised for the magical melodies about to unfold.
The show began with the Welcome to Country a heartfelt tribute to the indigenous heritage of the land by Kombumerri man, Lann Levinge., followed by an exchange between Luther Kora and Whaia Maori Sonic Weaver.
Song to the Ocean Movement I featured Whaia, Michael and the beautiful strings of DeepBlue and YoungBlue resounded around the circle, evoking a sense of serenity and unity. The musicians' fingers were dancing across the instruments, as if weaving a tale of the ocean.
In between the two movements Arc Circus and Luther Kora performed Living Sculptures: How The Birds Got Their Colours which was informed by the local Yugambeh creation stories.
Song to the Ocean Movement II featured Whaia, Michael and his 6 local Gold Coast percussionists and Greta Kelly on shah kaman, a Persian spike-fiddle.
Check out the stunning highlights of the event:
Then in June the cast and crew headed to Townsville where Corrina and Whaia worked with local Wulgurkaba Traditional Owners with the support and guidance of the amazing Aunty Rosalind Sailor of Big Eye Theatre. DeepBlue conducted YoungBlue workshops with a very talented group of high school aged string students at Cathedral School and we performed Song to the Ocean over three nights in a quiet park near to The Strand.
This highlights video of Song to the Ocean at NAFA really captures the audience's enjoyment of this heartfelt and immersive work.
It's such a joy to work with Corrina Bonshek, composer and artistic director on producing this work that brings so much joy to such a diverse audience.