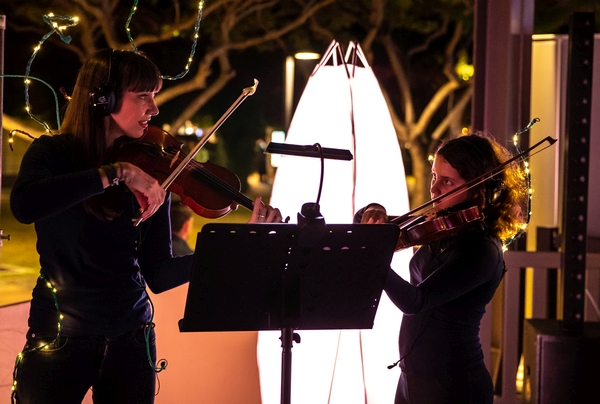 DeepBlue invites Brisbane based string & percussion students to be part of their upcoming co-production, Song to the Ocean, an immersive, nature-inspired contemporary classical music by Corrina Bonshek & Collaborators.
String students will be mentored by DeepBlue musicians in two String Workshops (Sun 28 May 11am-2pm and Fri 2 June 4-7pm) and a Dress Rehearsal on Sat 3 June before experiencing the excitement of performing alongside their mentor in this professional production as part of the Dawn to Dusk Ocean Appreciation Day at Suttons Beach Park, Redcliffe on Sun 4pm 2023.
This Strings Invitation to Participate has all the project details: Strings Invitation to participate_Song to the Ocean_DeepBlue_Corrina Bonshek and Collaborators_Redcliffe.  To register follow the links in the form or click here to complete the Song to the Ocean Registration Form.
Percussion students will be mentored by Australian percussion icon, Dr Michael Askill during a Gong Workshop from 3-4pm on Sat 3 June, and then will attend the Dress Rehearsal on the same day and the Performance on Sun 4 June at Suttons Beach Park. Click here for more info and to register to participate in the Gong Workshop led by Michael Askill.
This page has all the info about registering, participating as a percussionist and being mentored by Michael Askill.
Cost of participation is free.
During the outdoor performance a walking audience will be invited to listen to original contemporary classical music by award-winning composer Dr Corrina Bonshek performed by acclaimed Australian string ensemble DeepBlue, master percussionist & south-east Asian gong expert Michael Askill, vocal powerhouse & multi-instrumentalist WHAIA, Maori sonic weaver and 30 young musicians of Brisbane.
This performance of Song to the Ocean is supported by Restart Investment to Sustain and Expand (RISE) Fund – an Australian Government Initiative, Moreton Bay Regional Council; and Regional Arts Development Fund, a partnership between the Queensland Government and Moreton Bay Regional Council to support local arts and culture in regional Queensland.