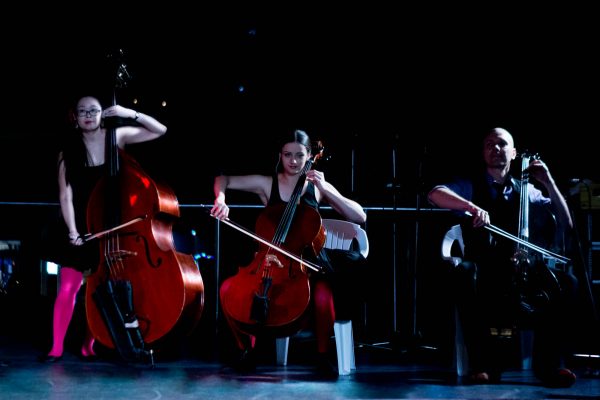 April 2 was a hot and sunny Saturday at the Sunshine Coast, and as we arrived at the Kings Beach Amphitheater to sound check early in the afternoon, people walking to and from the beach were curiously drawn to our music. Kids danced around and families promised to return for the event that night.
Later in the day we had children from Talara State College, Unity College, Noosa Pengari Steiner School, and Sunshine Beach State School arriving for their YoungBlue workshop.
We started off by stretching and loosening up, since the workshop revolved around creating choreography for Party Rock Anthem by LMFAO. We then divided DeepBlue members and YoungBlues into upper strings (violins & violas) and lower strings (cellos and a double bass!). They rehearsed and made sure they had their music memorised before they went into choreographing their number – of course shuffling was involved!
While all that happened, we welcomed The Queensland Choir and Cool Harmonies to rehearse their song on stage. YoungBlue parents set up picnic blankets and baskets on the grass and were amazed when their little ones had the chance to run through their song on stage.
It was dinner time for performers and as DeepBlue got into their colourful stockings and black tutu's (and waistcoats and colourful shirts for the guys), Hoo8Hoo, a local act got the show started and the crowd ready. As performers adrenalin and excitement levels hit new highs, Creative Events – the organisers – welcomed fundraising participants on stage. Rui Spinolla got his hair dyed hot pink and Joelle Spinolla got her hair shaved; their brave participation helped raise over $4000! Cheers to that!
Then it was time to perform and what a crowd! They clapped and cheered and we had a ball! We played many of our original pieces, a David Bowie tribute, a few covers and of course our YoungBlue and ChoralBlue numbers. The kids were amazing and made their friends, families and teachers very proud – oh, and their dance moves were on point!
The choir number was so much fun and it really pleased the crowd, we hope to work with them again in the near future!
If you couldn't make it to Caloundra on Saturday, check out the photos on Facebook, like our page and follow us on Instagram and Snapchat (dborchestra), and we will keep you updated on our upcoming performances.
We'd like to thank Creative Events Incorporated for having us, and everyone who came along for being an awesome crowd. We had a blast!