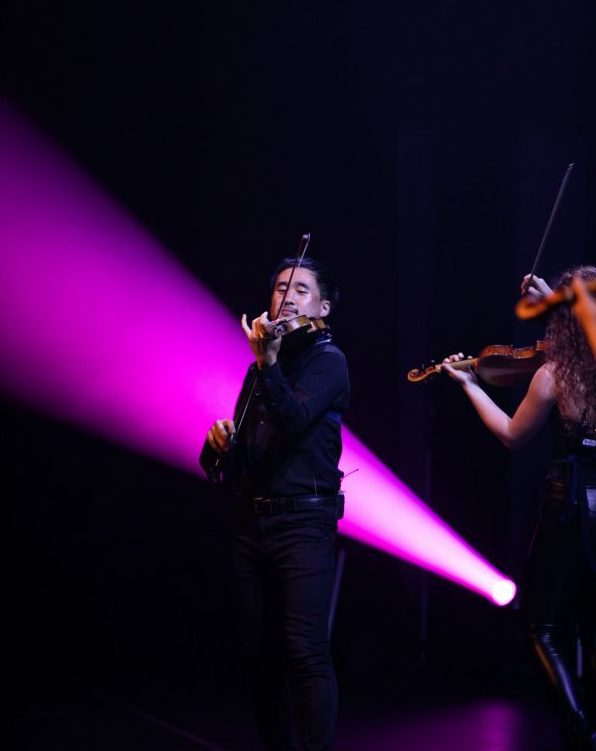 DeepBlue performed at Brisbane Powerhouse on 22 October 2021 to a massive crowd of Brissy fans.
Read the awesome reviews of this show here:
The ESP allowed individual members of the audience to access information about each piece of music and share their thoughts with the performers and everyone else watching. Through this interactive feature, questions were posed to prompt viewers to have their own moment of quiet contemplation, and if desired, to share their thoughts via an overhead projector in real time. It was through the ESP we learned that some audience members had seen DeepBlue's very first performance in 2006 and had returned 15 years later, back for more.
DeepBlue's opening piece Can You Feel the Sun written by Zinia Chan was hauntingly beautiful. As the swells of the music began, I looked out into the audience and witnessed everyone in a state of total rapture, lost in the overlapping melodies, accompanied by birds and noises of the jungle slowly coming into consciousness. The ESP question accompanying Can You Feel the Sun was: "What has been your silver lining?". The responses that illuminated the backdrop of the show were sentiments like "Sunshine and good friends" and "The thought of retirement.". DeepBlue shared it had been a quieter year than usual, but their silver lining was, "space for introspection, reflection and the time and energy to think about who we are and what we offer to the world.".
Some people might think kneepads and high heels might be an odd fashion choice. Not DeepBlue, and it soon becomes apparent why. Dancing while playing a classical instrument is one feat, but throw a hula hoop, some stilts, and a bit of contortionism into the mix and that's what makes DeepBlue unique. At one point, DeepBlue's Wayne Jennings balanced his cello upside down and performed dizzying spins. He ended the routine by throwing his sleek black cello in the air. The show's photographer, Dean Appleton walked backstage after capturing the moment Wayne caught his cello shaking his head in disbelief, "THAT. Was epic." I had to agree.
I had the opportunity to speak with Wayne after the show, and I asked him how he feels when he sees the crazy antics of the band members playing next to him. He explained to me that when he sees someone radiating energy, it inspires him to reach new heights. And quite literally, nothing elevates a performance more than STILTS.
Comparable to the zeal and mastery of Cirque-du-soleil performers, DeepBlue's performance brought the sexiness of Charlie's Angels, the passion of Roman gladiators, and the knee pads of amateur skaters dropping into the bowl for the first time. At times, the musicians from DeepBlue appear to be duelling, bringing a ferocious and passionate energy to the stage, brandishing their musical bows like swords. They weave around each other as if controlled by the same puppet master. Narrowly but expertly veering away from violin bows, it's a wonder members of DeepBlue don't take out insurance on their eyeballs. Being so close to the stage, I could see the band exchanging knowing and confident smiles when they were in the shadow of the spotlight illuminating the soloist of the piece; violin extraordinaire Evan Setiawan's smile didn't leave his face the entire show.
In other songs, the performers adopted auras which could only be described as maternal, cradling the audience with a delicate and fond tenderness. Words can't do the dissonant tones of Emma Hales' cello solo Flying Dream by Iain Grandage justice. After this moving piece, a member of Deep Blue asked the crowd, 'You like that?' which prompted a collective and drawn out "YESSSSSSS!" from the crowd. I was awestruck by their performance and nearly forgot I had jobs to do, places to be, and shoes to fill! You really have to witness DeepBlue's magic for yourself, so go on, snag a ticket to their next gig. I promise you won't regret it.
Accompanying DeepBlue for one song was a community choir called With One Voice. They performed the song Party by Christine Anu with high energy and it looked like SO. Much. Fun. Personally, I would rather jump into a volcano than brave karaoke (hence my behind the scenes gig), but With One Voice's performance made me want to toss my clipboard over my shoulder and rush on stage! Using music as a way of facilitating community inclusion, this all-abilities choir welcomes people from all walks of life. Sound like your jam? Check out With One Voice's website here.
Dressed in all black and blending in with the dark shadows of backstage, I was able to eavesdrop on the audience members descending the steps of the auditorium after the show,
"That was the most incredible thing I've ever seen."
"So MUCH energy!"
"Electric."
"So much joy on stage."
"Didn't want it to end."
…were some of the many snippets of high praise directed towards DeepBlue.
So, you didn't just hear it from me. These guys are doing something right.
In response to the ESP question, "Do you have anything you'd like to ask DeepBlue?", one audience submission decreed:
"Opening ceremony of the Brisbane Olympics... DeepBlue?
From the humble opinion of a volunteer stagehand, there is no doubt in my mind they would be brilliantly qualified for the job.
Watch DeepBlue at the Powerhouse via Facebook Livestream.